Breakers beat Kings, 81 – 64
The Breakers led from go to whoa for a relatively easy win. Cedric Jackson again showing why he is the MVP finished with an impressive 11 points, 9 boards and six assists, the highlight of the night had Jackson splitting the Kings defence for a dunk. People will suggest that it was a 'monster dunk' or a 'spectacular dunk', but in reality it was just a regular one handed dunk. The upscaling of the description of the dunk might be more showing of the lack of above the rim action in the NBL.
Daryl Corletto has been inspirational for the Kiwis, this time adding 12 points whilst Thomas Abercrombie finished with 15 points.
For the Kings, Ben Madgen have it his everything, even adding an unsportsmanlike foul to his tally of 15 points, however it was The Madman's backcourt partners who were dull. Aaron Bruce's 2 from 11 was ordinary at best and James Harey went for 3/9, though that is not too bad for a man with no arms.
The Kings have some serious soul searching if they want to roll over the steaming Breakers. It is going to tough, painful and exhausting, only a select few truly feel like they can do it, the rest of us see the Breakers making a play at the threepeat.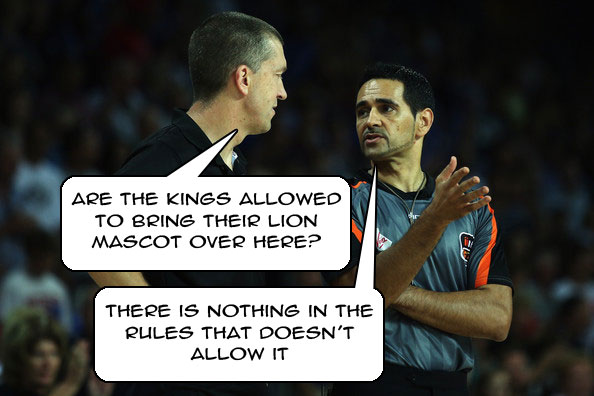 Perth Wildcats 93 – Wollongong Hawks 65
In what is almost becoming a typical script out West, after a shaky start the Wildcats finally get their claws out and metaphorically suffocate the other team.  Adris Deleon made the first basket of the game before carrying on like he had just won a championship but that celebration quickly faded as Cam Tovey, who recently announced his retirement and Damian Martin started knocking down three pointers.
If someone had of stated that Tovey and Martin would lead the Wildcats scoring at half time you would have laughed. Deleon and Timmy Coenraad were the only resistance for the Hawks. The Hawks were getting frustrated as the Wildcats put their stranglehold on the game, Perth run away for a huge win and a good confidence booster.
Greg Hire was amazing out there collecting a near triple double (10 points, 10 rebounds and 7 assists), Matty Knight and Kevin Lisch both scored 15 points. For the Hawks, Deleon and Coenraad finished with 16 points apiece.
Coach McLeod is one crafty son of a gun, capable of turning things around at home in game two, though we don't think the Wildcats will go down without a fight. Roll on Sunday, we have NBL finals ball to watch.